Vietnam's economic growth in 2009 will be 5.5 percent, according to the World Bank, which suggested the construction sector will be a key driver behind the above-average standing amid the global economic crisis.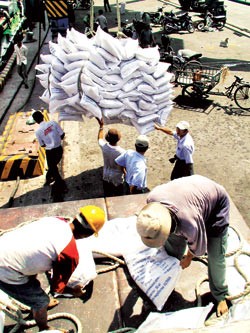 Rice is loaded for export at Saigon Port, HCM City. The World Bank forecasts Vietnam's economic growth in 2009 will be 5.5 percent.
In its East Asia-Pacific Update report, released on April 7, Martin Rama, chief economist of the World Bank in Vietnam , commented that the construction sector, with growth at 5.6 percent in the first quarter of this year, will help in spurring Vietnam's growth throughout 2009.
He assessed the Vietnam's financial sector crisis was low risk, and explained that "the direct impact of the global financial crisis on Vietnam is minimal, as banks in Vietnam have not been exposed to 'toxic' assets, nor are they owned to a large extent by exposed foreign banks."
He also mentioned that Vietnam 's financial system had already gone through a period of adjustment, prior to the crisis that struck fully in late 2008.
Between late 2007 and March 2008, Vietnam suffered from an overheating economy due to massive capital inflows which led to credit growth of 63 percent, surging inflation, real estate price bubbles and a large trade deficit that amounted to close to US$3 billion.
The country took aggressive measures to stymie the problem, when the government shifted its priorities from growth to stabilisation by implementing eight groups of measures in late March 2008, and five stimulus solutions later that year in November.
Martin commented that after these policies took effect, "the trade deficit declined and recently amounted to a small surplus, inflation slowed dramatically in the second half of 2008, and the financial sector improved remarkably."
The World Bank said the Vietnamese government's stimulus package started taking effect in the first quarter of this year, citing the country's export growth of 2.4 percent in the first quarter this year as "an encouraging success" when compared to a 20-50 percent export decline in regional nations.
In its update report, the WB said slow growth will also slow poverty reduction efforts in the East Asia-Pacific region, estimating that an additional 10 million people will continue to live in poverty as the unemployment rate in the region rocketed from 1 million in January 2008 to nearly 24 million by the end of the first quarter 2009.