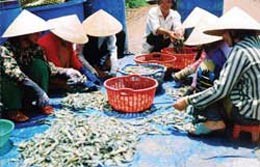 Local fishermen are categorizing shrimps after fishing. 
The Vietnamese Ministry of Fishery has recently issued a ban on raising of "white-foot" shrimps in Ho Chi Minh City, Ba Ria-Vung Tau and Mekong Delta provinces.
Beside common diseases seen in other shrimp species, scientists have found some other complaints in the "white-foot" shrimps, among which was Taura syndrome viruses which can infect the sugpo prawns and many other local shrimp species. These diseases have not been seen in Viet Nam, according to the ministry.
However, due to some advantages of the "white-foot" shrimp raising such as good profit, short term crop, little spending for food and its contribution to the diversification of brackish water shrimps, the ministry decided to develop this shrimp farming as a supplementary source in areas from Quang Ninh to Binh Thuan province, on one condition of the approval to raise them in the isolated areas from local shrimps and with measures of strict disease prevention in place.
The "white-foot" shrimp specie, whose scientific name is Litopenaeusvananmei, was reportedly imported to Viet Nam from the South America and is widely raised in southern provinces.