Consumers are overcome with despair, after much hope, after the directions on the import of used passenger cars with fewer than 16 seats. It is not quite surprising as Viet Nam surely does not want to be a dump site of used cars as well as endanger the auto manufacturing development plan.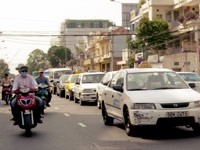 Many enterprises agree that cheap used cars could hardly enter Viet Nam. (Photo:T.C)
Narrow entry for used cars
Decision No. 69/2006/QD-TTg on the imposition of absolute tariff rates on imported second-hand cars regulates that 15-or-less seaters pay the tariffs of US$3,000 to US$25,000 each.

It is calculated that a two-year-old five-seater of under 2.0 selling at US$6,000 overseas will have the price of US$26,400, including the absolute tax of US$10,000, special consumption tax of US$8,000 and 10% VAT.
Meanwhile, a similar vehicle produced in Viet Nam is sold at US$35,000. With such taxes and the regulation that customs procedures are only processed at four sea ports of Quang Ninh, Hai Phong, Da Nang, and Ho Chi Minh City, many enterprises agree that cheap used cars could hardly enter Viet Nam.
Government's explanation
According to Finance Deputy Minister Truong Chi Trung's explanation, the above-mentioned regulation control the quantity and quality of used cars imported, helping Viet Nam avoid becoming a dump site for old cars.
It also protects consumers' rights and prevents fraud, dispute and cheats in tax calculation. The regulation also aims to protect the domestic auto industry, securing the national budgets.
A financial analysis says that the regulation demonstrate Viet Nam's hope to build a developed auto industry, making contribution to government's revenues. In addition, low income per capita and poor traffic infrastructure justify the government's hesitance in encouraging auto consumptions.
With such strict regulations, consumers cannot hope to have cheap used cars in the near future. At least they have to wait for another 3 or 5 years when the tax rates are lowered in accordance with the integration commitment and the Ministry of Finance's will.
Then, auto manufacturing and assembling enterprises are happy as they do not have to face much competition from imported second-hand cars.