Early this year, gas trading community worried a news: Petroliam Nasional Berhad (Petronas) Group (a petroleum group of Malaysia) had bought out the whole gas trading network in Viet Nam from Mobil Unique Company Limited (MUCL). Through financial consulting companies, petroleum corporations of Thailand, India, Taiwan are contemplating entering Vietnamese market. In the run-up to Viet Nam entry to WTO, the Vietnamese gas market faces a critical issue: Who will control gas distribution in Viet Nam in two years?

Gas market hots up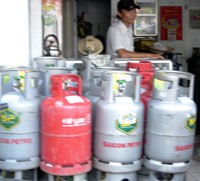 Gas distribution network is manipulated by general and sub-agencies. (Photo: T.C.)
Picnic Petroleum Corporation (Thailand) in Vietnam under "V gas" trademark had bought Phu My Gas Company for millions of US dollars. Petronas Group of Malaysia has bought Mobil Unique Gas. At present, several investors from Thailand, India and Taiwan are all interested in buying or cooperating with Viet Nam gas companies owning popular brands, remarked financial brokers.
Investors are anxiously awaiting progress of preparation for the equitization of two gas trading enterprises, belong to Gas Products Processing and Trading Company (PV Gas), the management unit of Dinh Co plant, in July. Despite sluggish trading activities, domestic market is heating up thanks mainly to mergers and take-overs.
Foreign companies rush into Viet Nam to take advantage of Viet Nam pending admission to WTO. While some negotiations and deals are being done secretly, many local gas companies are opting to polish up their trademarks and wait for cash-up suitor.

Viet Nam has more than 60 gas trading companies of which are several big foreign ones such as British Petroleum (BP), Shell, Pinic, Elf-Total, Petronas, PTT (Thailand).
The network of Elf, spreading from Da Nang, Ho Chi Minh City to Western provinces, has the second biggest market share in the South, only second to Saigon Petro. Mobil Unique Gas (now belonging to Petronas) ranks third with the largest storage system (2,800 tons) in the South. Shell is also a big group with a nationwide distribution network.
It will be easy for foreign petro groups to enlarge their market shares because they have long had investment and good market insight in Viet Nam.
 
Gas market is in disorder

The gas market with 60 companies and thousands of agencies is now out of control. It is in operation under only one legal document - Circular 15 of the Ministry of Trade. The distribution network has been manipulated by general and sub-agencies.
The shortcoming is obvious as by mid March, PV Gas offered its promotion program (sale off US$20/ton) but big gas companies ignored. PV Gas had to offer such a discount because its Dinh Co storage (6,000 ton capacity) was running out of space. And if the market continued to be flat, burning surplus gas would be unavoidable.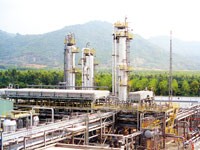 Will burning surplus gas be avoidable at Dinh Co Plant? (Photo: SGGP)
This has caused an undercurrent of discontent among gas companies. The reason was that Dinh Co has been contracted to meet only 20-30% of gas demand. To import gas to sell in March 2006, companies had already signed contracts in February 2006. After gas was imported and stored, Dinh Co announced its discounted price.
Saigon Petro was fined US$18,000 for accepting only 71% of the order because sale volume was so low and its storage was full of gas.
Due to the wrong forecast of the world's gas price that has fallen suddenly, gas companies found themselves in a loss making operation. Each company suffered a loss of about VND1 billion (nearly US$63,000) within a month.
The above incident stemmed from a distribution monopoly. The price of domestic gas is US$5-10/ton cheaper than imported gas. The supply meets only 40% of market demand. Therefore, only 30 of 60 gas companies are lucky enough to be included in a list of distributors approved by Dinh Co Plant.
However, this distribution is little more than a trickle and priority is given to subsidiaries of PV Gas's joint venture companies. This situation leads to gas speculation, reselling of approved quota and dependence on the world's irregular gas price. Even when the domestic price falls by US$20/ton at present, the retail price remains the same. In this case only distribution agencies pocket the cash.
Let's come back to foreign gas companies who want to get into the Viet Nam market. Thailand has a gas surplus of 1 million tons each year and India has a similar export demand. Viet Nam becomes their ideal market with more than 80 million people and import demand of nearly 500,000 tons of gas every year.
Viet Nam's WTO membership will be an opportunity for foreign corporations to enter Viet Nam. The biggest concern is that the gas price in the Viet Nam market will be decided by companies with worldwide trademarks and huge capitals. Who will protect manufacturing companies using gas and gas consumers? To avoid this threat, it is about time for Viet Nam to establish big corporations strong enough to influence the market like PTT in Thailand and Petronas in Malaysia.