According to a recent statistical report, the number of foreign tourists visiting Viet Nam at present is just some 3,000,000/year. However, hotels in both Ha Noi and Ho Chi Minh City say that they have a shortage of rooms and are raising their prices regardless of the fact that rooms have been booked by traveling agents one year in advance.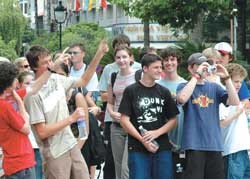 Smiling foreign tourists sightsee Ho Chi Minh city center
Recent reports from Tourism Departments have further heated up hotel room fever: In 2007, Viet Nam is short 1,200 rooms in 3-5- star hotels; the estimated figure for 2010 will be 7,000.
The room crisis, however, is largely happening in hotels in Ha Noi and Ho Chi Minh City, while resorts and hotels in other cities are still launching marketing and sales promotion campaigns to attract foreign tourists.
In fact, the number of foreign tourists to Viet Nam not increased much, while the number of foreign businesspeople has risen instead after Viet Nam's accession to the WTO and owing to the current heating up of the Vietnamese stock market. And while demand outstrips supply, businesspeople are ready to pay higher for a reservation in high-class hotels.
A high-ranking official from the Saigontourist Co. revealed that the number of foreign tourists who travel to Viet Nam on tours has increased 39% in the past five months, but the number of rooms offered by hotels in Ha Noi and Ho Chi Minh City to them for the same period, on the contrary, step by step decreased from 10% to 30%.
At a discussion held between the General Department of Tourism and the leaders of several big hotels in Ho Chi Minh City last week, the Director of Majestic Hotel Mr. Tao Van Nghe asserted, "It's true that our hotel is at full capacity. We have to increase the room prices according to the law of supply and demand. In 2008, room prices will be increased by 50%."
Tao also added that the current cost of accommodations in Vietnam is not really expensive. According to recent reports, one of the reasons foreign visitors continue to visit Viet Nam is the inexpensive cost of services.
Ms. Do Thi Xoan, Director of the General Department of Tourism said that hotels have to raise cost of accommodations because of escalating prices and because they have to pay discounts to their business partners.
Reality has however demonstrated that raising room prices according to the law of supply and demand does more harm than good to the development of the tourism industry in Viet Nam. Ms. Eric Finley, Asia- Pacific Director of Indochina Tourism Co., said, "When negotiating room prices for the traveling season of 2008, some hotels insist on an increase of 50% for rooms that we have booked last year, others wanted to cut down the number of rooms reserved. Some of our travel agents have no choice but to recommend destinations other than Viet Nam to tourists for the traveling season next year."
Some foreign tourism companies also said that Viet Nam will become an outsider of the tourism market when it announced that it would increase room prices for 3-star hotels to US$ 100/night in 2008.
A representative from Exotissomo, a local tourism company organizing tours for European tourists, insisted that the average cost of accommodations in Viet Nam is 20% -50% higher than that of in some regional countries like Thailand and China.
The supply and demand situation in the Vietnamese hotel industry is, however, just a sudden phenomenon. A leader from the New World Hotel said, "Viet Nam's tourism is now enjoying some advantages owing to the political instability in Thailand, Malaysia and Indonesia. This is a golden opportunity for us; we, however, will lose it soon if we are just interested in raising prices for temporary profits"
The Vietnamese tourism industry is still facing three shortages: a shortage of luxury tourist zones, of high- quality infrastructure services and of large shopping venues. Increasing room prices is certainly not a good policy, as the high cost of accommodations will turn many foreign visitors away from Viet Nam.
For sustainable development of the tourist industry in Viet Nam, instead of running after temporary profits by raising room prices, the tourist industry should abide by the commitments under negotiations with their business partners and at the same time make the best of the golden chance by coordinating with traveling and air industries to bring the most comfortable tours to customers, leaving a long-lasting impression on them.
Related Article: