Though Viet Nam enjoys favorable conditions in the wood product export market, the country still needs to resolve many problems in order to expand exports of these products.
Favorable conditions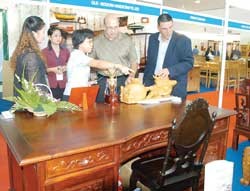 Many foreigners show special interest in Vietnamese wood products displayed at the International Furniture and Handicraft Fair and Exhibition 2006.
According to Mr. Tran Quoc Manh, Vice President of the Ho Chi Minh City Handicraft and Wood Processing Association, the Vietnamese wood processing industry has developed strongly in recent years.
Viet Nam's wood processing industry gained a turnover of more than US$1.35 billion in the first nine months of the year, an increase of 21% over the previous year.
Vietnamese wooden products have been exported to 120 countries and territories, among which are the US, Japan, and the European Union countries (making up over 70% of total wood product export value).
Viet Nam has ranked fourth among regional wood exporters after Malaysia, Indonesia and Thailand, surpassing the Philippines in timber export.
The Viet Nam Association of Timber and Forest Products (Vietfores) expected Viet Nam to reap US$5.5 billion from the export of wood products by 2010 and 8 billion USD by 2020.
The Ministry of Trade considered Viet Nam's entry into WTO a turning point for the industry when the export duties of Vietnamese wood products as well as import tax of material from other countries will be reduced remarkably, marking a competitive advantage of the nation.
At present, the Vietnamese export wood processing industry is ranked sixth in the key export product list and is growing very fast.
According to the figures from the Vietfores, the wooden product export revenue increased over 38% a year on average in the 2001-2005 period.
However, the association reported that the country's market share of wood export accounted for only 0.78% of the world timber market while there is a rising demand for wood products in the international market.
Difficulties remain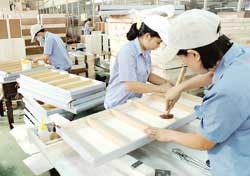 Wood products are manufactured for exporting to Japan at the Duc Thanh Wood Processing Co.
Currently, the domestic raw materials can only supply 20% of the industry's current processing capacity, the association reported, while the remaining 80% is made up by imports from international and regional countries, resulting in high costs for the domestic production industry.
Costs of imported lumber have increased averagely 5-7%, and 30-40% as for hard wood, as many countries have implemented policies to limit forest exploitation and timber exports.
Since last year, for instance, wood exporters like Indonesia and Malaysia have halted exporting lumber, sending Vietnamese processors, especially small- and medium-size enterprises, scrambling for other raw material sources. This significantly lessened profits of wood processing companies.
To meet the raw materials shortage, the industry is planning to implement the 5 million-ha Reforestation Program and effectively allocate forest area for the protection, regeneration and to increase afforestation.
Apart from this, the wood processing industry is also suffering from a lack of skilled labour.
Currently, the industry needed about 120,000 skilled workers but was able to recruit only 20,000 so far. Wood processing enterprises were also facing shortages of trained engineers and technicians when at least 2,500 engineers were needed in the industry.
To address the skilled labour shortage in the wood processing sector, the Viet Nam Chamber of Commerce and Industry is planning to work with businesses and trade associations to open vocational schools to train workers, technicians and engineers.