Truong Thanh Furniture Corporation has set up a woodworking school in the Eahleo district of Dak Lak province with funding from the German technical cooperation organization GTZ. The official inauguration was held this morning.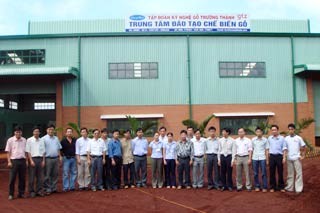 Staff and students at Truong Thanh's school inauguration
The idea is that the school will supply skilled workers for wood processors in the region. People from Truong Thanh Corporation will make up 20 percent of the students, who will learn how to use hi-tech precision machinery for making quality timber furniture.

Truong Thang and the Vietnamese-German Forestry Program will share the estimated US$420,000 cost of running the school in the first two years. The German contribution is coming from that country's Federal Ministry for Economic Cooperation and Development.

The board of the Woodworking Training and Development Center, as the school is officially named, is peopled by representatives of Truong Thanh, GTZ, the Dak Lak Department of Agriculture and Rural Development, and the Forestry Science and Technology Association of Dak Lak.

For information about processing and marketing Vietnamese timber and its products, go to www.ptm.org.vn.