The World Bank (WB) has praised Viet Nam for its good economic growth, saying that an upbeat picture about the country's economic landscape is emerging despite new policy challenges.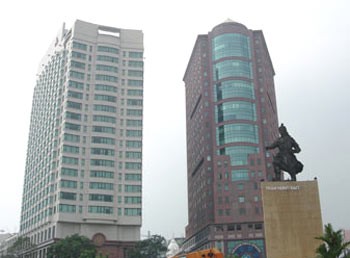 The World Bank forecasts that Viet Nam's GDP will grow at a rate of 8 percent in 2007 and 2008 (Photo: T.C.)
The WB, in its latest semi-annual East Asia and Pacific Update released yesterday, said growth in emerging East Asia reached 8.1 percent in 2006 - the strongest pace in ten years.
 
Growth topped 8.2 percent in Viet Nam, supported by across-the-board strength in exports, consumption and investment, the latter boosted by a surge in foreign direct investment before the economy's accession to the World Trade Organization (WTO) this January.
 
According to the WB, the two events that dominated the country's economic landscape over the last six months were Viet Nam's entry into the WTO and a dramatic boom in the stock market.
 
Those same two events, however, also posed policy challenges for the Government in the short and medium terms, with the stock market already having attracted substantial short-term attention.
 
According to the report, FDI commitments, boosted by the nation's WTO accession, surged to US$10.2 billion last year, well above its 2005 level of US$6.2 billion and surpassing its peak level of US$9 billion in 1996. FDI commitments have already reached US$1.9 billion so far this year. ODA inflows were also high in 2006, amounting to some US$1.8 billion.
 
As a result, foreign exchange reserves have seen a rapid rise, amounting to US$12 billion by the end of last December (equal to 11 weeks of next year's imports) compared with US$8.6 billion at the end of December 2005.
 
Meanwhile, inflation appeared to be under control in Viet Nam with a downward trend in the rate occurring through most of 2006, reaching 6.6 percent by the end of December and 6.5 percent by February of this year.
 
The report forecast that Viet Nam's gross domestic product (GDP) will grow at a rate of 8 percent in 2007 and 2008 while the economic growth rate in the emerging East Asia region will decrease to 7.3 and 7 percent over the same period.