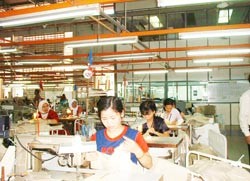 Vietnamese laborers are working at a garment factory in Malaysia.
(Photo: SGGP)
In 2005, Ho Chi Minh City-based branch of the Sona company dispatched 850 laborers to Malaysia to work with a stable income of US$200-500 per month in industrial manufacture fields such as food, electronics, engineering, wood, and enameled tile. 

For contracts on the professional skilled labor export such as welders, the company has recruited laborers for 6-month training in Viet Nam before interviews with Malaysian partners. These professional skilled laborers' income is US$500 per month. To solve post-labor export problems, the company has sought contracts which cover from training to sending laborers to Malaysia to work, and then employing them to work at Malaysian partners' companies and factories in Binh Duong, Viet Nam when they finish their contracts in Malaysia.