Raw export, low quality, weak connectivity between farmers and businesses and poor preservation are among weaknesses of Vietnamese farm produce that Vietnam should remedy to raise back the decreasing export turnover amid the fiercer competition by free trade agreements, said experts at a workshop in Ho Chi Minh City yesterday.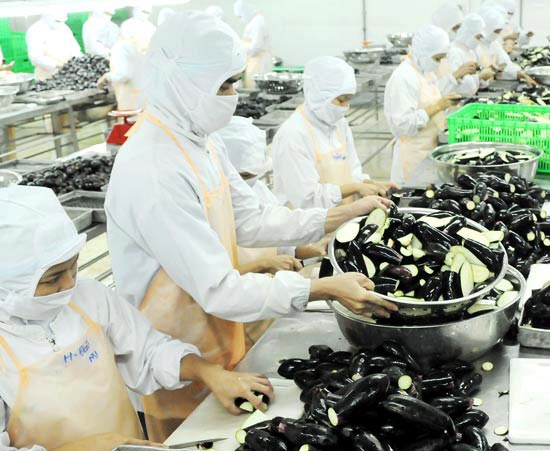 Eggplant processing for exports (Photo: SGGP)
Dr. Nguyen Quoc Vong from RMIT University said that Vietnam's WTO membership in 2006 had helped the economy develop and quadrupled agricultural export turnover over before hitting US$30 billion in 2014.
However, Vietnam has mainly exported raw products with value approximating 65 percent of the world common rate.
From this year, the country has become attendance in new and more competitive markets such as ASEAN Trade In Goods Agreement (ATIGA) with gross domestic product (GDP) of US$1.3 trillion, Trans-Pacific Partnership (TPP) with GDP of US$31 trillion and Eurasian Economic Union  (EAEU) with US$4 trillion GDP.
This will bring Vietnam a big export opportunity because these markets will eliminate most tariff lines on products imported from their member nations comprising Vietnam. Still, they will also draw farming products from other nations to Vietnam creating a fiercer competition in local market. 
The concern is that whether Vietnam will be able to exploit this chance or see foreign goods overflow domestic market and put heavier pressure on consumption of locally made products.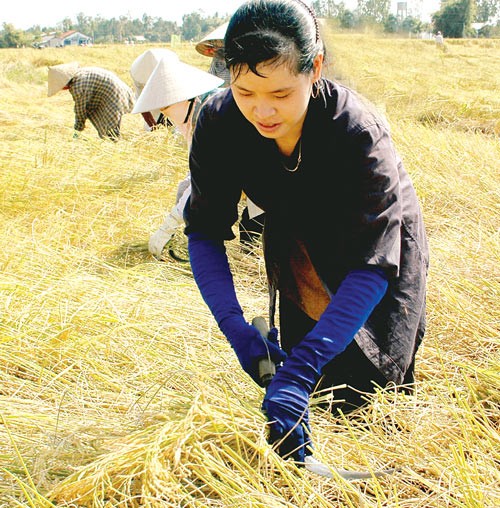 Farmers harvest rice in My Le commune, Long An province where is famous for Dao Market fragrant rice (Photo: SGGP)
Vietnamese rice quality is inferior to Thai rice, Philippine banana is more eye-catching and better preserved; the quality of Indonesian watermelon, coffee and cocoa is more equal; and Japanese seed is better than Vietnamese.
Therefore, businesses will face big challenges while penetrating into the new markets because they have mainly exported raw products and been incapable to take command of the market.
That has slowed down exports for recent years. Vietnamese rice accounted for 65 percent of China's import volume in 2012 and 2013, falling to 53 percent in the following year and only 47 percent now with the participation of Myanmar and Thailand.
Vietnam has had to share the Philippine market with rival Thailand instead of monopolizing rice supply via Government to Government contracts as before.
Mr. Vong added that rice farming area limitation to each household and land use time-limit has become barriers for hi-technology application and large scale production modals.
According to surveys by associate professor Ho Thanh Phong, principle of International University under the HCMC National University, farming production has not met consumption demand. A certain farming product usually falls in unsalable condition amid peak harvest time.
Hence, applying advanced science and technology to lengthen the preservation and storage time and increasing processing to diversify products are solutions for that issue, he added.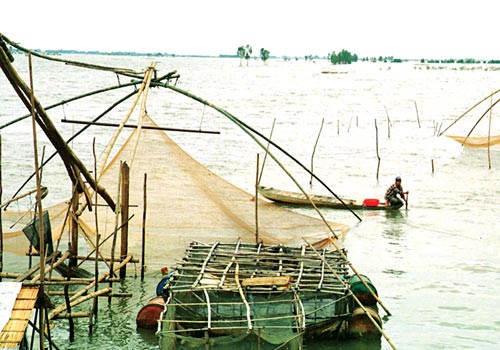 Seafood breeding in the Mekong Delta (Photo: SGGP)
Independent agricultural expert Dr. Vu Trong Khai said that farmers have produced over small scales and sold their products to traders. They usually break contracts with businesses and sell their products to traders for higher payment. Meantime, businesses hesitate about purchase when prices and consumption reduce.
There are no measures to tackle these violations making the connectivity among farmers, businesses, state and scientists lax and formalistic, he affirmed.
Chairwoman of the High Quality Vietnamese Goods Association Vu Kim Hanh pointed out three weaknesses of Vietnam's agricultural industry including weak connectivity, inappropriate market interest and unequal profit distribution in value chains.
She proposed to facilitate businesses' attendance in agriculture, professionalize distribution phase and courage establishment of distribution companies who will bridge farmers and cooperatives to the market.
Associate professor Vo Thi Thanh Loc from Can Tho University, said localities should offer incentives to draw businesses to invest in agricultural industry, develop value chains and improve product quality.