At a meeting in Washington on Tuesday, the World Bank's Board of Executive Directors said Viet Nam's new Socio-Economic Development Plan (SEDP) represents a credible and financially-sustainable strategy to promote growth and poverty reduction over the next five years.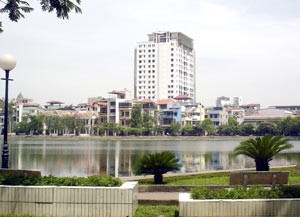 With the new Socio-Economic Development Plan, Viet Nam hopes to grow rapidly and steadily (Photo: T.C)
The WB Directors commended the Vietnamese Government for its achievements in promoting socially-inclusive growth, reducing poverty and making rapid progress towards meeting the Millennium Development Goals.
   
The five-year plan represents the first time that the Government has undertaken extensive and fully participatory consultations with local people, civil society groups, academics, private sector organizations and other stakeholders inside and outside government about the country's development goals.
 
The plan is designed around four "pillars" that define the country's future reform agenda: structural reform, social inclusion, environmental sustainability and good governance.
 
Speaking about the plan, Mr. Klaus Rohland, the World Bank's Country Director for Viet Nam said the Government has taken a very open and participatory approach to putting the SEDP together, "This has led to a plan that is based on strong analysis and that addresses the measures needed to ensure that growth is both rapid and of high quality."
 
He added that "One of the big challenges that Viet Nam faces is balancing its desire for high growth with the need for more sustainable growth. For example, on the environment, this means strengthening institutions for environmental protection and natural resource management and developing ways to implement the 'polluters pay' principle".
 
The directors expressed the hope that the World Bank's forthcoming Country Partnership Strategy with Viet Nam and a new series of Poverty Reduction Support Credits would provide sound instruments for supporting the reforms set out in the SEDP, ensuring that there is balanced progress across all four pillars.
Today, the World Bank in Viet Nam announced that the Consultative Group (CG) for Viet Nam will hold a conference in Ha Noi on December 14-15.