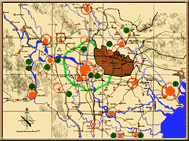 Map of Bac Ninh's industrial zones.
The Glass and Construction Ceramics Corporation VIGLACERA recently started the infrastructure construction of the Yen Phong Industrial Park in the northern province of Bac Ninh, which valued nearly VND990 billion (US$62 million).
Factories and warehouses will cover 60% of the IP's area and the remaining will be used for public works, trees, technical infrastructure and roads.
When it is opened for business, the park is expected to generate jobs for 15,000 local workers.
The 340-ha industrial zone is located at the interjection of the North-South corridor (National Highways 1A and 1B linking Ha Noi and northern province of Lang Son) and the East-West corridor (Highway 18 linking Noi Bai International Airport and the Cai Lan deepwater port in northern province of Quang Ninh ).
After the ground-breaking ceremony, two first businesses, the Ha Noi Alcohol Company and the Ha Noi Ceramic Tiles Company, have registered into the park.