China's central bank dropped its US dollar central parity rate to its lowest point in five years on June 22, making clear its commitment to flexible currency policies.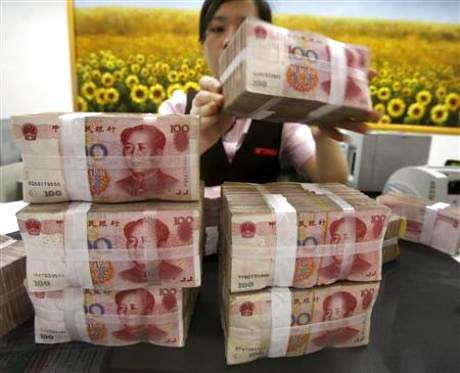 A teller counts yuan banknotes at a China Merchants Bank branch in Ganzhou, Jiangxi Province, June 21, 2010 (Photo: Reuters)
The move to 6.7980 yuan per dollar from 6.8275 yuan the previous day, a change of 0.43 percent, is likely to benefit some sectors, while acting as a detriment to others.

Economists said that a strong yuan will affect global economies with imports into China becoming cheaper and higher import demand expected in the country.

Chinese domestic consumption would be the biggest beneficiary of the move, said strategists at Deutsche Bank.

Chinese airlines including Air China and China Eastern Airlines will benefit from a stronger yuan since a large portion of their debt accrued buying airplanes and importing fuel is denominated in US dollars.

According to the bank's estimation, every one percent rise in the yuan will boost Air China's 2010 net profit by around 10 percent and China Eastern's by 15 percent.

In addition to airlines, other winners from a yuan appreciation are car makers such as Volkswagen and BMW, luxury goods, consumer goods and technology traders.

Vietnam trade imbalance with China might fall

Dr. Ho Dieu, deputy principal of Ho Chi Minh City University of Economics, said the yuan gain will affect bilateral trade of the two countries, but Vietnam's US dollar central parity rate will remain unchanged.

Like other countries, Vietnam's trade with China will benefit from the move as Vietnam's exports to China will increase while trade gap will reduce.

But Dr. Tran Hoang Ngan, member of the National Advisory Council for Financial and Monetary Policies, said that while imports of Chinese consumer goods into Vietnam will drop, that doesn't mean that the trade gap will fall.

Dr. Ngan explained that the value of imports from China might rise if the imports are essential goods whose prices will rise.

Heads of some commercial banks said that yuan appreciation against the US dollar will prompt more pressure on Vietnam to adjustment the dong-US dollar rate.

In addition, they said Chinese goods will become more expensive so the country will face export difficulties, and in result, the volume of Chinese goods exported illegally into Vietnam will rise.

A Vietnamese economist said the Chinese central bank's announcement that it would allow its currency to gradually move against the U.S. dollar will raise demands for gold by investors.

According to the World Gold Council, central banks have continuously increased gold reserves in recently, doubling reserves over the first quarter.

The world gold price dropped to USD12,237 per ounce at 14:30 on June 22, a decrease of US$29 over the last session.

On the same day, the buying price of domestic gold went down to VND28.29 million per tael, a fall of VND400,000 per tael compared to a day ago.

Vietnam's stock indexes fell too, with the VN-Index closing at 512.63, down 2.12 points, and HNX-Index falling by 2.09 points to 161.92.
US dollar-yuan exchange rates:

- July 2005: US$1 = 8.1080 yuan
- July 2006: US$1 = 7.9732 yuan
- July 2007: US$1 = 7.5737 yuan
- July 2008: US$1 = 9.8388 yuan
- July 2009: US$1 = 6.8323 yuan
- June 2010: US$1 = 6.7980 yuan