Education has returned to the top place in the list of most positive sectors for investment in the last survey on private equity investors conducted by auditing and consulting firm Grant Thornton Vietnam.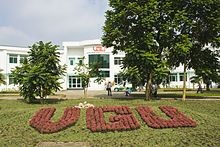 Vietnam-Germany University - one of the cooperation projects between the Vietnamese Government and German Government
The bi-annual "Private Equity in Vietnam – Investment Sentiment and Outlook" survey during the second quarter of this year also showed the improvement in the attitude towards oil and gas, natural resources and agriculture while retail trade lost its top place.
Although optimism for the next twelve months is lower than the last quarter of last year, the outlook sentiment is generally positive with 53 percent of all respondents holding a positive view.
In addition, 54 percent of respondents believe that Vietnam remains an attractive destination for investment and 53 percent of respondents plan to increase their investments in Vietnam in the next 12 months