Managers as well as employees of Saigon Aquatic Products Trading Joint Stock Company (APT) expressed their eagerness after the National Assembly's inspection team highly appreciated the company's implementation of policies and regulations of food safety.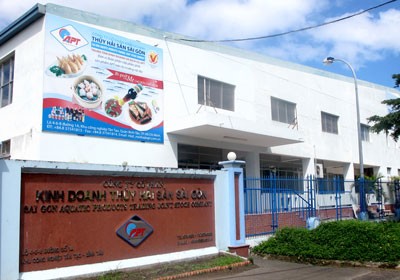 APT company (Photo: SGGP)

Crisis and opportunities


The company used to be a pride of Ho Chi Minh City with its processing factory of 23,500 meter square invested by state budget. It was designed to meet European standards. It had welcomed many international delegations.

However, in 2009, all factory managers were suspended from work for their wrong management leading to continuous losses from 2007 to 2009. Accordingly, the municipal People's Committee made further probe of the causes of losses.
The factory is on the brink of collapse or it went into liquidation. To save APT, a members of state-run Saigon Trading Group (Satra), Satra proposed the city authority to approve its re-structure plan. Later Satra appointed Truong Tien Dung, Satra's Party secretary, to be director of APT.

With his absolute determination and with all employees' supports, Dung and the management board adopted series of measures to resolve the crisis. They focused investment in key commodities to keep its capital.

Their efforts were rewarded as three years later, APT regained its position. Though remaining had not been resolved yet, production results fulfilled its assigned tasks. Average income of laborers soared by7-10 percent annually; for instance in 2016, average laborers' income is more than VND6 million ($266) per month.

Winning markets with quality products
APT director Truong Tien Dung said that along with growth, the company always pays attention to environment issues and community health because these factors play vital role in the company's brand name. Accordingly during its production, the company implemented food safety regulations from material import, processing procedure, packing and distribution.

Safe foods help improve people's health, life quality and race quality, Dung added. Enterprises will develop only if they satisfy high quality standards; especially in international integration, improved food quality and fully transparent supply chain have become increasingly important to many manufacturers as consumers increasingly seek these qualities in the food they buy, said Dung.
Providing consumers with safe food and transparent supply food chain is the company's philosophy of business for 40 years; hence, Dung believed APT's products will win Vietnamese and foreign consumers' trust.

APT is one of pioneer enterprises in HCMC to apply advanced quality management system in food production to ensure for safe food to meet markets in the world. Thanks to its prestige in the field, the company has exported its products to EU, Australia, Japan, South Korea. Export turnover gradually increased ; for instance, export revenue in 2011 was US$4,627,000 and in 2016 it reached to US$8,716,000.

The company is one of food supplier for big local supermarkets such as Metro, Big C, Co.op-Mart, Maximart, Lotte Mart.

At last, managers and staffs' continued efforts were eventually rewarded since it was selected Vietnamese high quality products by consumers for successive years along with various prizes in the field.

In 2015, APT's aquatic factory was certified with safe food chains and it was granted VietGap certificate in 2016. These will facilitate APT's expansion of markets for fish.