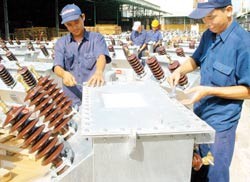 THIBIDI workers manufacture transformers
The Vietnam Electrical Equipment Company (THIBIDI) yesterday dispatched over 400 transformers of various capacities to the Electricity Corporation of Cambodia. 

The export comes under a US$1 million contract to develop the rural electricity network in Cambodia.
 
This takes THIBIDi's transformer exports this year to US$3 million, three times the last year figure.