With the Government set to open up imports and distribution in the new year under its World Trade Organization commitments, electronics producers are likely to face the biggest challenge from imported goods.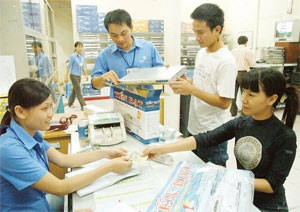 A shopper buys a DVD player at Tien Dat Electronics in Ho Chi Minh City (Photo: SGGP)
The import tariffs on electronic goods, at 3-5 percent now, will be abolished on January 1, 2009.
 
Electronics stores already abound with imported products, offering buyers easy options suiting every pocket.
 
Stores located far from Ho Chi Minh City's downtown area are full of low-priced foreign products with strange brand names like Lafen and Ject.
 
These shops, with a 14-inch television for a mere VND1 million and a refrigerator for VND2 million, attract hordes of low-income shoppers.
 
Large showrooms like Nguyen Kim and Cho Lon, on the other hand, stock state-of-the-art products like LCD televisions and two-door refrigerators made by Samsung, Toshiba, and LG.
 
But their prices are not very high either. For VND10 million, one can get a good 32-inch LCD television, and for VND4-5 million, a refrigerator or air-conditioner.
 
Le Vu Vuong, deputy marketing manager of Cho Lon Appliances Supermarket, said though the economy is facing difficulties, sales have not declined.
 
He said the prices of imported as well as local products have fallen by 10-30 percent in recent months.
 
Distributors are likely to launch clearance sales at the end of the year to make room for new products imported from Thailand, Singapore, Malaysia, and Indonesia. These products will be even cheaper after the abolition of import duties.
 
Some importers, in a novel move, have started to offer products from Europe and the US.
 
A retail giant said some foreign retail groups have arrived in the country to market electronics products.
 
Change or perish
Shoppers check out locally made fans at a shop in Ho Chi Minh City (Photo: SGGP)
The head of the Vietnam Electronics Enterprises Association said at least 20-30 percent of local producers would go bankrupt after the electronics market is opened up completely, and big producers would be less affected only if they switch to making new kinds of products.
 
Ngo Van Bi, director of Viettronics Tan Binh Joint Stock Company, said local companies should make products that are in demand, adding that his company stopped producing TV sets long ago due to the presence of global brands and is now making computers and developing software solutions.
 
After switching to the new business, the company has been unable achieve its revenue targets, but profits have surged because there is less competition, he said.
 
Vu Hoang Chuong, deputy general director of JVC Vietnam, said even JVC, a wholly foreign-owned company, has had to boost production of products that are in demand.
 
If local companies do not make this change soon and continue to compete against imported products, they would not survive, he said.
Related articles:
The Going Gets Tougher for VN Retailers
Viet Nam to Open Up, Retailers Brace for Global Onslaught