Though the electronics market foresees negative growth in 2013, enterprises are struggling to avail of every possible opportunity to survive in this fiercely competitive field.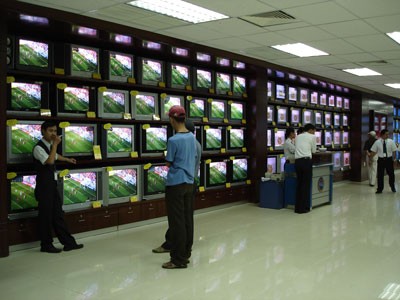 Very a few customers in Nguyen Kim outlet ( Photo: U. Phuong)
Electronic outlets are even trying to cover far off rural districts to sell their stock and lower inventory, besides continuing to create promotional programs in their existing outlets.
In 2012, electronics sector saw negative growth and it is forecast that losses this year will hit this sector again, despite promotional campaigns that stores have launched.
Except for well-known outlets such as Nguyen Kim, thegioidienmay.com, Pico, Thien Hoa and Idea, other small outlets were once near state of bankruptcy.
Thegiodidong.com was set up in 2004, and in 2007, Mekong Capital bought 33.5 percent of its market share. Since then, it has opened a series of outlets in Ho Chi Minh City and poached on markets of other electronic outlets. In 2012, thegioidienmay.com established itself as the biggest retailer in the country.
Using the example of Thegiodidong.com, many electronic enterprises are now considering tie-ups with foreign investors.