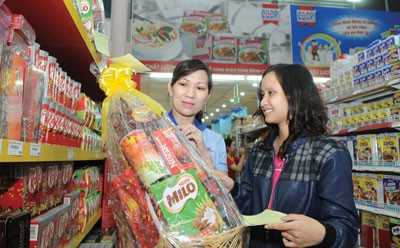 Customers are choosing a gift basket at Co.opMart (Photo: SGGP)
Enterprises are busy competing to launch an assortment of gift baskets full of Vietnamese-made commodities at affordable prices, with just one month left for Tet Lunar New Year.
Co.op Mart, Big C, Metro, Maximark and hundreds of stores are flooded with Tet goods and customers can choose gift baskets ranging from a couple of hundred thousand to millions of dong.
These gift baskets contain items like confectionaries, tea packets and wine, mostly imported.
 Gift baskets are not only available in supermarkets and stores but also via online shopping websites.
In addition to displaying gift baskets in eye-catching spots in supermarkets, they are competing with consumer catalogs which have detailed information of each item in the baskets.
Aware of the current economic crisis, supermarkets are coordinating with partners to provide affordable but interesting gift baskets that are packed with Vietnamese-made goods from well-known companies such as Bidrico beverage, Ngoc Viet Rice, Tuong An Cooking oil, Lien Thanh fish sausage, Yen Hoang sweets, and Xuan Hong fruit jam.