Purchase power of consumers in supermarkets has gradually declined by 10 percent during the recent economic downturn and only enterprises that are finding innovative product techniques are being able to survive and grow in the present scenario.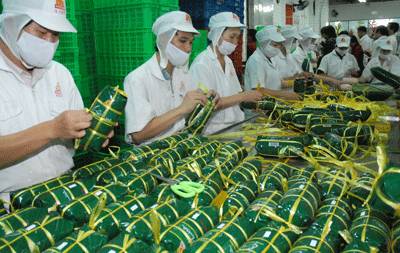 Employees packing food products in the Vissan Company (Photo: SGGP)
After two years of experimenting, the Lien Thanh Company has   come up with a unique vegetarian fish sauce recipe made from pineapple fruit.
The new product, considered a breakthrough, meets food safety and hygiene required thanks to its natural fermentation methods.
The company is also the only one among other fish sauce companies that distinguishes fish sauce flavors between first extractions of fish oil fermented in salt and second or third extractions.
The company's efforts have gone rewarded with its turnover increasing by 80 percent in 2009 and 2010.
The Vissan Company also understands the market when it launched new products at lower prices which met the demand of gourmet lovers. When contaminated pork was being rejected in the market, Vissan still managed a turnover of VND2,310 billion, accounting for a 10 percent increase compared to the same period last year.
Meanwhile Tran Quoc Toan, deputy director of Dien Quang Lamp Joint Stock Company, considers the distribution channel as very important. According to him, products fail if customers are unable to find the store to buy the product, even though the product is very good.
Accordingly, the company supplies its products to thousands of electric stores in the country and sells directly to farmers at cheap rates.
Moreover, the company promotes its lamps in many places across the country and often gives its products to clients for free, as promotions.