Economic difficulties have not only hit manufacturing and real estate companies in the first four months of this year, but also distributors and service companies who saw their inventories rise substantially.
Purchasing power slows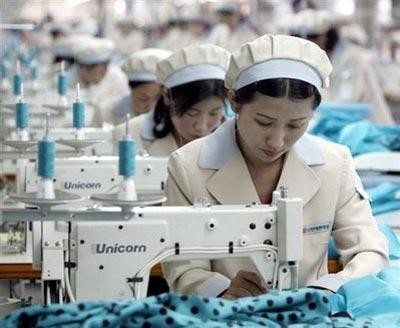 Garment purchasing power drops drastically as consumers reduce spending. (Photo: SGGP)
According to Nguyen Nam Hai, Deputy Minister of Industry and Trade, industrial manufacturing and trade showed signs of recovery in April and inventory of some products dropped in comparison with that in March, but in general, industrial manufacturing and trade remained unstable and barely escaped a difficult situation. Purchasing power tended to rise in April but at an insignificant pace and domestic market stayed subdued. Retail sales and services only increased by 6.1 per cent in April.
From an enterprise point of view, Nguyen Huu Toan, deputy director-general of Saigon 2 Garment Joint Stock Company, garment buying power has been extremely slow and the company sales have dropped by 30-40 per cent, as against the same period last year. The number of orders for uniforms from regular buyers has also fallen drastically.
One deputy director-general of a supermarket said that his storehouses had not seen such high inventory as this year. According to business plans, the supermarket had stockpiled just enough goods for the first quarter of the year. However, although April was over, only 60-70 per cent of the products, including clothes, footwear, household goods and household appliances, had been consumed.
According to Cao Tien Vi, chairman of Saigon Paper Joint Stock Company, the economic crisis has forced consumers to reduce spending which has directly affected manufacturing by businesses. In order to balance production and purchasing power, as well as to prevent high inventory, each enterprise should make production plans more carefully. Saigon Paper kept its inventory at a fairly high level in previous years to deal with the situation in which buying power increased unexpectedly. However, the company adjusted its business strategy lately and reduced its inventory to the lowest level, as firms have to bear more loan interest and expenses with a longer inventory period.
Lower tax to boost buying
Mr. Toan said that Saigon 2 Garment has gradually reduced its production since the end of last year. It only produced the exact amount that its buyers ordered, to control inventory.
Some other companies who did not foresee an increasing drop in purchasing power have struggled with high stockpiles. They had to choose to barter their products like giving free items to customers or offering a discount of 70 per cent.
A director of a garment company said that it is necessary to offer high discounts for two product groups which have a time limit, like fashion clothes and processed foods. A discount level of 70-80 per cent was normal and firms were even able to offer higher discount to clear their storehouses and reclaim their capital, instead of paying more rent for storehouses. At some supermarkets, some products sold at cost price or even at a loss.
However, not every company can reduce prices as they have to consider collecting enough money to maintain their operations. Besides, they might violate the law if they offer extraordinarily high discounts.
Huynh Van Minh, chairman of the HCMC Union of Business Association, said that it requires macro policies to help enterprises to overcome the current difficult situation. The government should remit value added tax for enterprises to help them reduce their costs, increasing competitiveness.
Mr. Vi said that value added tax directly relates to consumers. Thus, if the government remits tax, purchasing power will be stimulated. He also added that tax remission should be applied for a long time to bring back optimum efficiency.