A trade name is one of main criteria that help consumers assess the quality and price of a product. The trade name will become more prestigious as associated products win prizes or titles. This is probably why many enterprises are rushing forward to earn accolades for their products, resulting in instances of purchasing titles on the market.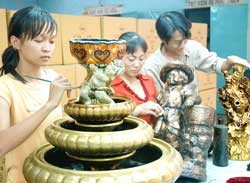 Lacquerware products are made at Lac Phuong Nam Co. for exportation to U.S. and Australian markets

 

For two years now, the word "title" has appeared everywhere on the packages of products and in advertisements. According to a recent statistical report, it is preliminarily estimated that there are multitudes of different titles given to products on the market.

Apart from two official groups of titles – those offered to an enterprise's production and management such as ISO, HACCP, SA 8000, or GMP; and others for businessmen like the Red Star (Sao do), the Golden Star of Vietnam (Sao Vang Dat Viet), the Young Entrepreneur (Doanh Nghiep Tre), or the Typical Businessmen (Guong Mat Doanh Nhan Tieu Bieu) – the remainder are awarded to products by management boards of local and international trade fairs. Sometimes, various titles are given to different products of an entrepreneur at the same time.

Recently, series of titles have also made their debuts on the market. Examples are the "Golden Cups for Talented and Moralistic Businessmen" (Cup Vang Doanh Nghiep Tam Tai), the "Trade names – Labels" (Thuong Hieu – Nhan Hieu), The Golden Dragon Prize (Giai Thuong Rong Vang) and the "Golden Trade Name" (Thuong Hieu Vang).

Many businessmen say that titles are abused nowadays as they can get many of them in a short time by spending money to take part in trade fairs. Never before have titles been awarded so easily, paving the way for poor-quality products to easily compete with high-quality ones.

So far, consumers have tended to put their trust in awarded products as they simply think that the quality of these products has already been assessed by prestigious organizational boards. Consumers believe that to attain such titles, enterprises have to spend a lot of time and efforts to renovate their entire production process in order to better the quality of their products.

Reality, however, shows that not all products with awarded titles can be trusted as many have been awarded by organizational boards whose specialties have nothing to do with the awards in question. For instance, the "Golden Cups for Talented and Moralistic Businessmen" titles are awarded by the Asian Research Center, which focuses the breadth of its research on neither "talent" nor "morals."

The phenomenon that organizational boards of trade fairs borrow the names of functional agencies to make their awarded titles more prestigious is wide-spreading in the country now. Take the "Golden Trade Names 2007" event for example: a long list of prestigious sponsors was introduced to attract enterprises' participation, but the organizational board was simply the Mars Communications Company.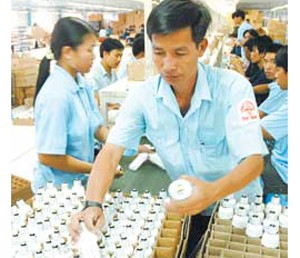 In the first half of 2007, Dien Quang Co. produces 100 million compact bulbs, of which 90% are for exportation
 Likewise, the program awarding "Vietnamese Products Meeting WTO Standards" titles, jointly organized by the Vietnamese Intellectual Property Association and the website  www.thitruongviet.com.vn , could easily mislead consumers as in fact an agency at the association's level in no way sets WTO standards for local products.

After the fiasco in which some soy sauce companies on a list of high-quality goods producers in Viet Nam were discovered to produce soy sauce that contained high levels of 3-MCDP, even the "High–Quality Vietnamese Goods" program, which has so far been considered to be quite prestigious, now also obviously needs to be improved. Many consumers now think that the program should publicize adequate criteria concerning quality as issued by related control agencies so that consumers can follow them up.

No one can deny the necessity of awarding titles to qualified products and enterprises to encourage them to enhance the image of their trade names. However, to avoid the abuses mentioned above, functional agencies should reconsider and regulate the awarding of titles. Under situations in which low-quality goods are mixed with high-quality goods as at present, the victims will no doubt be consumers and decent entrepreneurs that are trying to introduce their high-quality products on the market.