The number of Vietnamese people rushing into seeking an employment chance in Republic of Korea (RoK) has increased since there was the new employment permit system (EPS). In order to learn about the working life of over 12,000 workers employed under the EPS, the Sai Gon Giai Phong Newspaper's reporter has accompanied workers on their work trip to RoK.
 
First days in Korea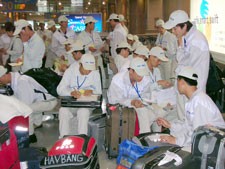 Vietnamese workers arrive at a RoK  airport
We arrived at Incheon Airport of RoK at 5:30 am after a four-hour flight from Vietnamese Noi Bai Airport. 174 Vietnamese workers, among whom are three women, were given a two-hour drive to the employment training institute of the Korean International Labor Foundation (KOILAF). The Institute was located on a hill side of a valley in Kyung-ki province, 150 kilometers away from Seoul. 
 
Vietnamese and Mongolian workers were transferred right away to this institute for a three-day training before being assigned to a workplace. The Institute has eight staff, six of whom can speak Vietnamese. 
 
The first lesson for Vietnamese workers was discipline, regulation-abiding. They had to go to the class, go to bed and get up on time. They will be fined US$20 for smoking at no-smoking places. 
 
Ms. Kim Pil Seon, a Vietnamese speaking Korean teacher, said, "when Vietnamese workers just come here, their communication ability is limited due to their poor Korean language skills. Therefore, they are not confident in solving their problems at the workplaces. They call for the Institute's help and intervention for big and small problems."
 
Beside basic knowledge of Korean law, legal rights, society and culture, they are taught Korean, instructed how to make a phone call, remittance, and provided necessary information about addresses and telephone numbers for assistance. 
 
Every worker is given a 250-page manual, which is a guideline for foreign workers on their first days in RoK, said Director of KOILAF Park In Sang.
 
More kindness….
 
We went to Jinil Surfin factory, an automobile spare parts polishing factory, in Ansan city, Gyeonggi province, one-hour drive from Seoul. Five Vietnamese workers are working there with a salary of US$1,200-1,400 per month. 
 
Pham Tran Hon, who was chosen to work under the EPS by Ha Noi Industry College, was very happy when he saw us. He smiled, talking about his work, "I have worked here only six months but I sent back home US$6,200."
 
Another one, Nguyen Phong Huan, said, "Beside supplying us with good accommodation and meals, the factory has internet connection. So, we can contact our family by email and read Vietnamese online newspapers. The factory is planning a tour for us to learn more about Korean country and people."
 
"Vietnamese workers are very diligent. They can grasp the work very quickly. We are very pleased with them and plan to employ 10-15 more Vietnamese workers," said Director Assistant of Jinil Surfin company Se Ho Nam. 
 
Improve laborers' quality
 
After over one and a half years of the EPS implementation, 12,270 Vietnamese workers have been employed at about 5,000 medium and small businesses in nine provinces and cities in RoK with an average salary of US$1,000 per month. 
 
Manager of the Vietnamese Labor Administration and Management Section in RoK Nguyen Anh Dung said, "At many factories specializing in mechanics and automobile production, worker can earn about US$ 1,300-1,500 per month if they work over time."
 
However, our workers are contracted to work mostly for small and medium businesses, among which are many 3D (dangerous, difficult, and dirty) jobs. Therefore, their work and income are sometimes not stable. In this case, they request changing factory. The regulation on changing factory is very strict here. Some workers run away when their request is not answered. 
 
Nevertheless, only about 100 Vietnamese workers (nearly 1%) employed under the EPS have run away, while lots of workers employed under the industrial trainee system have done so. The quality of workers employed under the EPS is evaluated as better than one of the industrial trainee system because the selection process is done better.
 
According to the Vietnamese Labor Administration and Management Section in RoK, the Korean Government permits the employment of 105,000 more foreign laborers in 2006, among whom 73,000 laborers will be employed under the EPS. 
 
The EPS is allocated for 10 countries this year, while there was only six countries previously. So there is more competition. We hope, however, the quota allocated for Viet Nam this year will be 12,000 laborers, the same as last year. 
 
In order to improve worker quality, said Director of Department for Overseas Labor Administration and Management Nguyen Thanh Hoa, the Department will organize to train Korean teachers, aiming to meet workers' demand of learning Korean and working in Korea.
Employment Permit System (EPS)

The Employment Permit System permits employers who have failed to hire native workers, to legally employ certain number of foreign workers. Under the System, the Government assumes the responsibility for attracting and managing foreign workers.
- To establish efficient employment management system for foreign workers.
- To provide the same labor conditions and human rights protection measures native workers enjoy to foreign workers
- To prevent irregularities by putting the Government in charge of selecting and inviting foreign workers

Most countries experiencing labor shortages due to economic development and population ageing are introducing foreign worker employment system.

Taiwan, Singapore, and Hong Kong have introduced Employment Permit System, while most European countries such as France, Germany, and Switzerland have introduced Labor Permit System, which allows foreign workers to move freely from one workplace to another.

Businesses permitted to employ foreign workers

Under the Employment Permit System, foreign workers are allowed to work for the following five businesses only:

Manufacturing, Construction, Agriculture & Livestock Farming (Crop Cultivation, Livestock Farming), Offshore & Coastal Fishing, Service (Restaurant, Business Support, Social Welfare, Cleaning, Nursing, House-work)

Source: EPS

Related Articles:

Viet Nam Lacks Skilled Laborers For Export
Labor Export Improves Laborers' Lives
First Korean Language Test in Viet Nam