Ericsson opened an office in the central city of Danang on May 4, making its footprint in three Vietnamese economic centers after Hanoi and Ho Chi Minh City.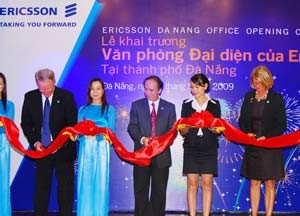 Representatives of Danang City and Ericsson cut a ribbon to open Ericsson's Danang office on May 4 (Photo: HP)
Ericsson is already a partner to all five current GSM mobile operators in the country – Mobifone, Vinaphone, Viettel, Vietnamobile and GTel.
"Opening an office in Danang not only allows us to take our business to the next level but also enable us to even more efficiently and resourcefully deliver our services and solutions to our customers in Vietnam," said Eddie Ahman, President of Ericsson Vietnam.  
Ericsson says its Vietnam workforce is over 600 persons now, a three-fold increase in the last two years.
During a meeting with Vietnamese President Nguyen Minh Triet in Hanoi in March, Ericsson Group's president and CEO Carl-Henric Svanberg confirmed that Ericsson is committed to a long term presence in Vietnam, and this is demonstrated by workforce growth.
Arriving in Vietnam 15 years ago, Ericsson has supplied equipment and services to many companies involved in the mobile phone industry in the country, where the current number of hand phone subscribers is reported at more than 60 million.