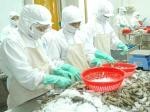 Shrimp is a major export item of Viet Nam
The Ministry of Trade estimates Viet Nam's export revenue of 2005 to exceed US$32 billion, more than US$0.5 billion higher than the year's target.
This year's performance is 21.6% higher than that of 2004. Most exports have risen in terms of turnover.
According to the ministry, Viet Nam exports more than 5.2 million tons of rice this year, earning nearly US$1.4 billion, up 46% over 2004.
Rubber exports increase by almost 32% to US$787 million. Shipments of electronics and computer parts bring about US$1.5 billion, up 34%. Wooden items rise by 33% to more than US$1.5 billion.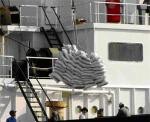 Rice loaded onto a ship for export at Saigon Port in Ho Chi Minh City (Photo: Tuong Thuy)
Among Viet Nam's seven major export earners, crude oil contributes over US$7 billion. Each of the other six items – fabrics and clothes; fisheries; footwear; electronics and computer parts; wooden items; and rice – exceeds US$1 billion in revenue.
In 2005, Viet Nam is still the world's largest pepper exporter, second largest exporter of rice and coffee, and third biggest cashew nut exporter.