Vietnam's footwear industry also maintains the tariffs threaten to bankrupt many Vietnamese exporters at the cost of thousands of jobs.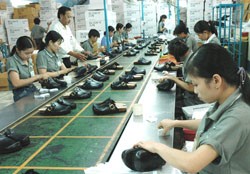 80 percent of laborers in Vietnamese footwear industry are women (Photo: Duc Thanh)
"This is a very regrettable and irrational decision," said Vietnamese senior Trade Ministry official Bui Son Dung.
The European Commission on Thursday said it would slap temporary anti-dumping duties on leather shoe imports from both countries starting from April 7 to protect EU manufacturers from "unfair trade" practices.
Foreign ministry spokesman Le Dung also condemned the EU move and said Viet Nam would do its best to reverse the decision in the near future.
"Viet Nam will pursue its discussions with the European Commission in order to find a reasonable solution favourable to the interests of both sides", he said in a statement.
The EU said manufacturers in the two Asian nations had an unfair advantage because they could count on state aid in the form of soft loans, tax breaks, low rents, fuzzy accounting and export incentives.
But the trade ministry's Dung rejected the claims.
"Vietnamese companies, including those that are 100-percent foreign owned, have not sold below market price in Europe," he told AFP. "They have operated according to free market principles."
"The Vietnamese government cannot intervene in the business" of private companies, he said.
Dung added that part of the reason factories in Viet Nam were able to produce cheap goods was because they had imported high-tech equipment from Europe.
The footwear industry is one of the country's major hard currency earners. The sector provides jobs for more than half a million laborers, 80 percent of them women, state media has said.
Most earn about two dollars a day.
The European Commission said the duties are to be imposed gradually over five months and will rise to 16.8 percent for leather shoes from Viet Nam and to 19.4 percent for those from China. Children's shoes are to be exempted.
AFP-SGGP

Related Articles:
The EU Shoe Anti-Dumping Case
EC Asked to Suspend Shoe-Dumping Lawsuit
Big Shake-up Needed for Viet Nam Footwear Industry
Women's Union Calls for EC Fairness for VN Shoes