All countries in the Northern European region are unanimous in abolishing an anti-dumping tax imposed on footwear products from Vietnam and China, reported the website Fashionunited.com on Tuesday.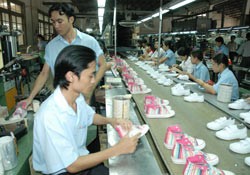 The EU has imposed the unfair anti-dumping tax on footwear products imported from Vietnam since 2006. (Photo: Duc Thanh)
The EU has imposed a 16.5 percent anti-dumping tax on leather shoes imported from China and a ten percent anti-dumping tax on shoes from Vietnam since 2006.
The anti-dumping tax should finish by the end of 2008, but the union has extended the rule for one more year after thorny discussions. The union has reopened discussions on the charge as its official term has nearly finished.
Protesting against the tax, the Netherlands said that the tax had limited consumers' choice and raised footwear products' prices, adding to the already high unemployment rate, Fashionunited.com reported.
The German Government also complained about the tax, the website added.
Meanwhile countries from South Europe suggested the tax should continue.
However, the website said the fate of the charge did not depend on protesters or supporters, it depended on votes from countries like Austria, Slovenia, Cyprus, France and Eastern European countries, who are unsure about the situation.
Belgium's De Standaard newspaper predicted that the tax would be extended for another 15 months.