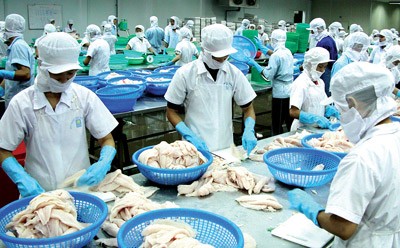 Workers process pangasius at a seafood company in Dong Thap Province. (Photo: SGGP)
Vietnam Cleaner Production Center along with Vietnam Association of Seafood Exporters and Producers has set up a four-year project titled 'Establishing a Sustainable Pangasius Supply Chain in Vietnam' (SUPA).
The project will focus on improving capacity, production, reducing environmental impact, and lowering overheads by applying more efficient resources and cleaner production.
According to Berenice Muraille, development counselor in the European Union, this project will help increase competitiveness of Vietnamese pangasius in the global market. The EU will finance the entire pangasius product supply chain, including fries, fish food, processing, export, and retail.
The project expects that at least 70 percent of pangasius producers and processers, 30 percent of feed producers and hatcheries will apply efficient and cleaner production means; and at least 50 percent of companies will provide sustainable products under Aquaculture Stewardship Council standards to EU and other markets.
The project will cost nearly Euro 2.4 million with the EU financing Euro 1.9 million.