EU trade commissioner Peter Mandelson said the EC anti-dumping tariffs imposed on shoes with leather uppers from Viet Nam are provisional and investigation is still going on.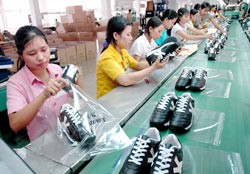 Female workers make shoes in Viet Nam (Photo: SGGP)
This content is part of a letter by Mr. Mandelson, replying the letter from the Viet Nam Women's Union.
In his letter, he wrote that all relevant sides can raise their ideas about the results of EC investigation. He added he wants to see the Vietnamese Government contact regularly with EC organizations to find out an equal solution for mutual benefit of the EU and Viet Nam.
In March 2006, the Vietnam Women's Union wrote a letter to Mr. Mandelson to call for the EC's fairness in the EU anti-dumping case against shoes with leather uppers from Viet Nam. The letter showed big concern about the case's negative influence upon 500,000 shoe workers in Viet Nam, with 80% being women.

Related article
Women's Union Calls for EC Fairness for VN Shoes