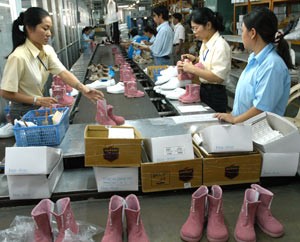 Vietnamese workers in a shoe production line
EuroCommerce, the retail, wholesale and international trade representation body of Europe, has urged EU leaders to abolish antidumping duties on Vietnamese-made leather-upper shoes beginning January, 2010.
EuroCommerce general secretary Xavier Durieu issued a warning October 12 outlining the dangers of protectionism during strained economic times.
"Any extension of the EU antidumping duties on imports of leather footwear from Vietnam could damage consumer purchasing power and so inhibit Europe's economic recovery," he said.
Distributors said antidumping duties have severely affected many EU importers, retailers and consumers; while many competitive European producers have also been hit. They said the duties have not proved an effective measure to solve the problem.
In 2006, after lengthy political bargaining, EU member states agreed to impose duties on imports of Vietnamese footwear for two years only. In April 2006, Europe decided to impose a tax rate of 16.5 percent on Vietnamese-made shoes.