The quarterly survey of business indicator of European enterprises in Vietnam, conducted by the European Chamber of Commerce last month, showed that confidence and optimism among European companies for Vietnam has gradually improved.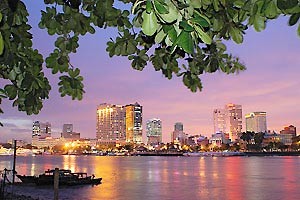 Ho Chi Minh City- the economic hub of the country.
The business climate index for Vietnam rose from 45 points to 48 points this quarter.
Half the companies participating in the survey were from the service sector, a quarter from the manufacturing sector, and the rest from trade and other sectors.
The number of firms giving an overall positive comment on the current business situation rose to 40 percent from 26 percent in the last quarter. Investment projects maintained growth with 78 percent companies giving feedback that they have been maintaining operations as before or even expanding investments.
Preben Hjortlund, chairman of the European Chamber of Commerce, said the figures indicated better economic stability. However, the index remained below midpoint index of 50, while it was 79 points two years back.