The Council of the European Union's decision to extend anti-dumping duties on Vietnamese shoes for 15 months will have a serious impact on the country's footwear makers and over 650,000 workers, said Industry and Trade Deputy Minister Le Danh Vinh at a meeting on December 23.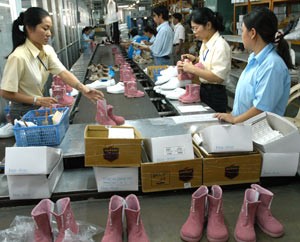 Vietnamese footwear businesses employ more than 650,000 workers, mainly female.
The meeting was held by the Ministry of Foreign Affairs and the Ministry of Industry and Trade in Hanoi.
In addition to the tax extension, which applies from January 2010, Vietnam faces another blow from Europe's decision to remove the application of the Generalized System of Preferences (GSP) regulation to Vietnamese-made leather shoes.
Vietnam is "deeply disappointed" with the extension of anti-dumping duties on its footwear, Mr. Vinh said.
Throughout the EU's dumping investigation beginning in 2005, Vietnam has repeatedly affirmed that its footwear companies did not dump their products into the European market.
Vietnam protests the EC's application of punitive taxes aimed to defend the interests of a small group of European footwear makers who say they are unable to compete with Vietnam.
Most Vietnamese shoe businesses are small- and medium-sized companies with imports accounting for just 10 percent of the EU market share, said Mr. Vinh. Therefore, Vietnam does not threaten EU shoemakers, he added.
During more than three years of imposed anti-dumping duties, export turnover and market share of Vietnam's leather footwear in the EU has decreased significantly while export prices have increased.
Vietnam's footwear exports to the EU market brought in just US$1.6 billion in the first nine months of 2009, a year-on-year decline of more than 11 percent.
Moreover, the penalties protect just a small, non-competitive group of EU shoemakers while negatively impacting EU investors, importers, distributors and the interests of millions of consumers in the region, said Mr. Vinh.
The decision also reduces the effectiveness of the EU's efforts in hunger eradication and poverty reduction in Vietnam, he added.
The anti-dumping measures applied to Vietnam's leather footwear were not appropriate to the positive development of bilateral trade relations between Vietnam and the EU Community, said Mr. Vinh.
Deputy Prime Minister and Foreign Minister Pham Gia Khiem sent letters to Foreign Ministers of EU countries, expressing his concern over the issue. Minister of Industry and Trade Vu Huy Hoang also sent letters to Ministers of Economics and Trade of EU member states and held meetings with ambassadors of EU countries to discuss the issue.