The Government has issued regulations on financial management of Vietnam Electricity (EVN), banning the group from making financial contribution to stock, banking, insurance, investment funds, real estate and finance.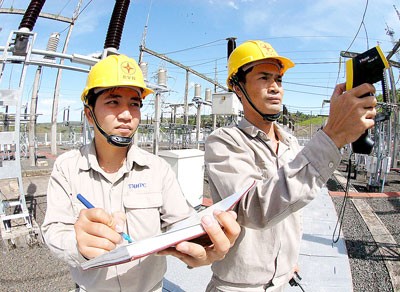 EVN workers examine safety of the electric power transmission system (Photo: SGGP)
The largest power company in the country must abide by this regulation except special cases decided by the Prime Minister.
EVN investment in other fields must be in accordance with the law; ensure effectiveness, conservation and development of capital; increase revenue; and not change its goal of operation.
The group is entitled to mobilize capital from domestic and oversea individuals and organizations, and take full responsibilities for effectiveness of the capital use and payment of the debts together with interest.
Capital mobilization must ensure that the debt to equity ratio not exceed three times.
EVN can mobilize dormant capital from subsidiary companies which EVN holds 100 percent chartered capital. In case the group holds less, it must reach an agreement from the companies.