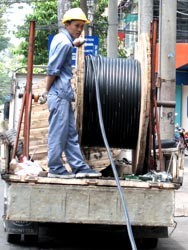 The electricity industry is waiting more fund for transformation and development. (Photo: T.C)
The Corporation Electricity of Viet Nam (EVN) has sign three agreements in principle with An Binh Commercial Joint-stock Bank (An Binh Bank), Petrol Viet Nam Finance Company (PVFC), VinaCapital Group and Deutsche Bank to finance EVN's projects.
As of the first agreement, An Binh Bank, VinaCapital and Deutsche Bank will jointly underwrite EVN's 10-year bonds with the estimated value of VND 5,000 billion. The bonds' interest rate will be lower or similar to the market rate for foreign investors. It is a new funding channel and partly eases the EVN's need of capital.
As of the second agreement, An Binh Bank and PVFC will co-lend EVN VND 100 billion for the "220 KV Tuyen Quang – Thai Nguyen electricity wired route" project.
The third principal agreement was signed by Electricity Telecommunication Company (ETC), PVFC and VinaCapital to arrange VND 2000 billion to finance ETC telecommunication projects.
In order to sustain electricity development, capital demand of the whole electricity industry in 2005 – 2010 is estimated at VND 356,000 billion including VND 250,000 billion, accounting for 70%, needed by EVN's mobilizing and VND 100,000 billion, accounting for 30%, needed by foreign investors.
These 3 agreements marked an important milestone for the cooperation between EVN and domestic and foreign financial institutions in order to raise fund for the development of the industry.