As many as 100 entrepreneurs were honoured at a ceremony in Hanoi on Oct. 10 for their outstanding performances in terms of enterprise development, contributions to the economy and community, and improving workers' living conditions.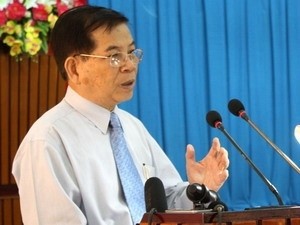 President Nguyen Minh Triet addresses the ceremony (Photo: VNA)
President Nguyen Minh Triet attended the ceremony and presented the Thanh Giong Cup to the most excellent representatives of the local business community.
President Triet said amid adverse impacts of the global economic-financial crisis, the successes of the businesspeople are of greater significance.
The Vietnamese business community has joined efforts with the entire Party and people to lift the national economy out of difficulties to maintain steady growth.
Vietnam's forecast GDP growth of 5 percent this year has demonstrated the all-out efforts of the entire Party and people, including the business circle's remarkable contributions, the State leader noted.
As the main and pioneer force in the front of economics and international integration, the Vietnamese business community has always shown its spirit, intellect and will, confidently surmounting all difficulties and contributing to the country's development, he added.
The President said he hoped that more and more Vietnamese businesspeople would prove their strengths on the world market.