Real estate experts are concerned that the surging number of resorts last year is causing wastes of lands and environment pollutions, leaving the property market to be hit in 2011.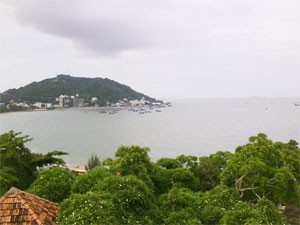 View of a resort in the southern coastal province of Ba Ria – Vung Tau (Photo:Minh Tri)
Many property consultancies predicted earlier last year that resort properties would likely to be booming this year as they saw the increasing number of resorts nationwide.
Statistics showed 55 resorts were built in the country in 2010. Real estate experts noticed builders even planned to open resorts in provinces, where tourism seems not to be their advantages.
There are up to 36 resort projects with the total investment of nearly VND175 billion (US$8.75 million) in the central province of Thanh Hoa, of which only one put into operational.
Another northern province of Bac Giang has 12 resort construction works with the total investment of $67 million and an area of more than 10 square meters.
The government of the southern province of Tra Vinh in Mekong Delta is also studying on two resort projects.
Analysts are concern on the increasing amount of resorts as many property firms speculated on the spots, which were registered to build resorts.
Many sections on the coastal provinces' beaches are left abandoned for years as they were registered to build resorts.
A huge number of resorts will make debut soon this year, said Marc Townsend, managing director of the property market consultancy CB Richard Ellis Vietnam.
If investors are ready for it, it will likely be a good fortune; otherwise, it will be a disaster, Townsend told Dau Tu Tai Chinh newspaper.
Tens of resort projects in provinces including Ba Ria – Vung Tau, Hau Giang, Lam Dong and Thua Thien – Hue were suspended due to a tardy progress.
Experts blamed many provincial governments for granting investment permission too easily and making reports on resort projects too tardily.
"We are set to solve many problems caused by resort properties, including waste of the land fund, environment pollution, builders' land speculation and tax losses. The real estate market will be effected badly if we don't solve these problems as soon as possible," said Professor Dang Hung Vo, former deputy minister of natural resources and environment.
The Ministry of Natural Resources and Environment would review all planned golf projects and set up specific regulations for water and environment protection at the courses, ThanhNien Newspaper quoted the ministry as saying on Nov.
In a statement posted on its website, the ministry said that it will evaluate the economic and environmental impacts of the projects to decide if they should continue.
The ministry will cooperate with concerned agencies to decide which kinds of land can be given to golf courses, and study the links between golf course projects, tourism and real estate development, the statement said.