The Ho Chi Minh City Real Estate Association (HoRea) has forecast growth for the commercial real estate market in 2017 in its ten predictions after analyzing 2016 situation .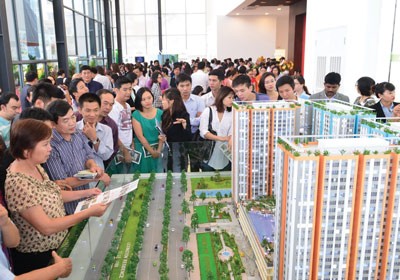 Consumers at a ceremony to introduce new condo in BInh Thanh District in Ho Chi Minh City (Photo: SGGP)
According to HoRea, the real estate market in 2017 will continue grow yet it will slow down compared to 2016. Low-income consumers will prefer cheap condos. Cooperation between enterprises is an unavoidable trend. Additionally, merger and accquisition of enterprises will strongly develop.
The government will issue more policies on taxation and credit, land registration, planning, administrative regulation to tie developers' duty and protect consumers' right.
Flow of capital from foreign and Vietnamese people in overseas countries is important for property investment in five next years.
Enterprises must show its responsibilities to society and clients if they want to win customers' trust. Apartment developers must satisfy consumers' demand of green space, friendly environmental premise and facilities.
Despite of risks  in the markets such as demand-supply imbalance, strong competition with more participation of investors, it is unlikely to have property bubble.
More disputes between consumers and developers are predicted for 2017 on firefighting safety, maintenance fee, parking fee.