The Vietnamese real estate market is still attractive and has potential for development, participants said at the 7th International Real Estate Federation Asia Pacific conference held in Ho Chi Minh City last week.
Rising property market
Newly-built apartment blocks in District 2, HCMC
Matthew Koziora, sales and marketing director for VinaCapital Real Estate, said foreign firms have a great opportunity for investment in the realty sector in Viet Nam, especially HCMC, since the country has excellent growth prospects, an administration increasingly open to foreign and private sector investment, and increasing demand for accommodation.
 
He pointed out that the southern city now has just 15 shopping malls and department stores measuring a total of 150,000 square meters – a number insufficient to serve the increasing number of foreign tourists.
 
Around 50,000 expatriates live in HCMC but only 3,000 serviced apartments are available.
 
With international arrivals on the rise, the city also faces a shortage of hotel rooms, Mr. Koziora said. There are fewer than 7,000 three- to five-star rooms.
 
In the first half of the year, 2.2 million foreign tourists came to HCMC. Some 4.5 million foreign arrivals are expected this year, he said.

The city also needs tens of thousands of apartments for low-income people and millions of square meters of housing for disadvantaged people, he added.
 
The country has attracted US$57 billion in foreign direct investment this year, with a large portion of it pledged in housing, resorts, and hotels, clearly revealing that foreign investors are interested in the property sector.
 
Marc Towsend, managing director of CB Richard Ellis Company, said demand for apartments is thriving after ownership regulations were improved, ensuring the sector's growth and boosting investors' confidence.
 
He named some successful housing projects like An Vien in District 7 and E Home in District 9, adding they are successful because, at $800-1,100 per square meter, their prices are reasonable.
 
Do Thi Loan, secretary general of the HCMC Real Estate Association (HoREA), viewed the city's rising population, with 85 percent of its people living in urban areas, as an opportunity for investment in residential projects.
 
She also cited Viet Nam's position among the world's 10 most attractive retail consumer markets as another positive factor for real estate development.
Truong Trong Nghia, president of the city's Investment and Trade Promotion Center, said the Government's 2020 target of turning HCMC into a metro of 10 million with hi-tech industries, high-end services, and science and technology facilities would be an engine for growth.
 
The Government also plans to increase the average housing area from the current 11.5 square meters per person to 17 square meters, he added.
Mr. Nghia also cited projects that have been approved and are awaiting investment – like the new urban centers in Thu Thiem and Cu Chi and expansion of Tan Son Nhat Airport -- as cause for optimism.

Difficulties still ahead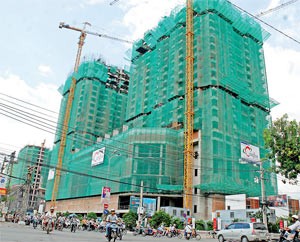 A property project under construction in District 11
Local participants at the meeting were apprehensive that foreign investors would replace them in the realty market since they have been forced into inactivity by the sluggishness of the market and tight credit policies.
 
HoREA chairman Le Hoang Chau said the country and city realty markets would recover only in late 2009. 
 
The demand for housing is increasing, but the market depends mostly on bank funding, he said. Bank interest rates are still high at 18-21 percent that buyers are waiting for them -- and also housing prices -- to fall.
 
Mr. Chau said the incomplete legal system, tortuous formalities, and sluggish land clearance have slowed down property projects.