Over the last two weeks, businesses have sped up purchase of summer autumn rice in the Mekong Delta sending export prices to highest level in the last two years.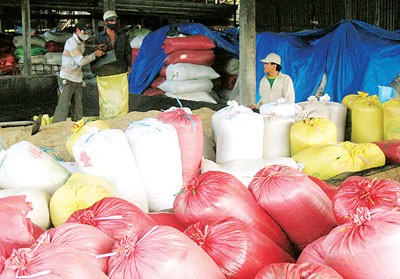 Farmers stock dried rice for further price hike in Mekong Delta (Photo: SGGP)
Export prices (FAS-Free alongside Ship) have escalated to VND8,250-9,300 a kilogram (US$389-438 per ton) of 5-25 percent broken rice in Ho Chi Minh City.
These price are found up VND1,000 over the last two months.
The Vietnam Food Association (VFA) increased the export price of 25 percent broken rice to US$410 per ton in FOB (Free on Board) term at the end of July, up US$35 over the early month.
Farmers are rushing to harvest summer autumn rice in the Mekong Delta. They are very eager to stock their harvest because the price is expected to continue raising in the next couple of weeks.