The General Statistics Office claimed on Thursday, the total export-import turnover during the first month of 2011 had reached US$13 billion, 20 percent higher than in the same period last year.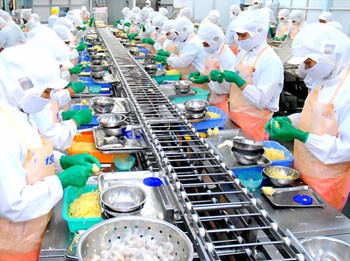 Shrimps being processed in export factory in HCMC (Photo: SGGP)
This January the export turnover was estimated at US$6 billion and the import turnover at US$7 billion.
Compared to the same period last year, the trade deficit moved slightly up to US$1 billion compared to the last year figure of US$926 million.
However, both export and import turnovers rebounded by 18 percent and 15 percent respectively.
The export commodities of rubber, seafood, cashew nut, coffee and steel saw the highest growth.
Meanwhile, the import of cars has doubled since last year. Additionally, paper, cotton, fiber and cloth were imported in larger quantities.
The General Statistics Office also announced the export turnover in 2010 to have reached US$71.4 billion while the import turnover had touched US$83.5 billion. However, the trade deficit was found lower than expected at about US$12.3 billion stabilizing at US$12.1 billion.