Exports have fallen sharply and are likely to be only around US$61 billion this year instead of $64.6 billions as targeted, Deputy Minister of Industry and Trade Nguyen Thanh Bien has said.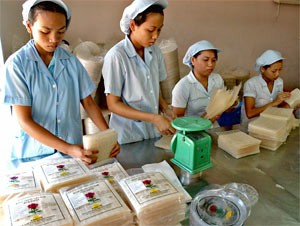 Making rice paper for export at Ut Duoc factory in HCMC's Cu Chi District (Photo: SGGP)
Speaking at a meeting in Ho Chi Minh City on July 27 to discuss measures to speed up exports in the remaining five months of the year, he attributed the sharp fall to the global crisis, adding Vietnamese products face fierce competition in terms of pricing and trade barriers.

Truong Dinh Hoe, the general secretary of the Viet Nam Association of Seafood Exporters and Producers (VASEP), said seafood exporters found the going difficult in the early part of the year.

Exports in the first seven months have been worth only $2.1 billion against the year's target of $4.6 billion, he said.

Even with the best efforts, they will not cross $4-4.2 billions, he admitted.

The target was adjusted once already -- from $5.3 to $4.6 billion.

Other major export items like clothing, furniture, footwear, and handicrafts face a similar situation. The apparel export target has been reduced from $10.5 billion to $9.1 billion, footwear from $5.1 billion to $4 billion, and furniture from $3 billion to $2.8 billion.

Mr. Bien said the export sector is coming out of its most difficult period, with orders again increasing.

Truong Dinh Tuyen, a former trade minister, said exports would be better in the remaining period of the year than in the first seven months.

Govt measures needed

Delegates at the meeting agreed that the government should take measures to resolve the difficulties faced by exporters.

Tran Quoc Manh, general director of Saigon Trade and Production Development Corporation, said trade promotion has to be improved and focus should be on processed items to increase the value of exports.

Accessory and raw material markets should be established in Vietnam and bonded warehouses should be built in other countries so that Vietnamese products can directly enter distribution channels at lower costs, he said.

Mr. Hoe said food hygiene should be ensured to bolster exports.

Exporters said procedures should be simplified for bank loans, with priority given to medium and small enterprises.

Huynh Van Minh, chairman of the HCMC Union of Business Associations, said: "Many businesses will go bankrupt if they fail to get credit."

Nguyen Thi Hong, vice chairwoman of the HCMC People's Committee, said the central bank and ministries should find out which companies are paying high interest rates.