Vietnam made US$6.4 billion from exports in November, bringing the total for the first eleven months to over US$64.2 billion, according to the General Statistics Office.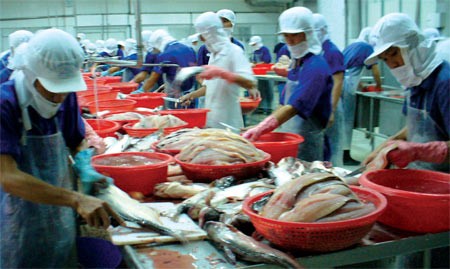 Workers process tra catfish for export at a factory in a Mekong Delta province (Photo: SGGP)
This month saw an increase of 2.8 percent compared to last month.
 
The figure for the January-November period is an increase of 24.4 percent over the same period last year.
 
The period's total import revenue is estimated to reach US$75 billion, a year-on-year rise of 19.8 percent.

Imports for November cost an estimated US$7.7 billion, a rise of 5.5 percent over October, creating a trade deficit for the month of US$1.25 billion and US$10.7 billion for the first 11 months of the year.
Economists said though the trade deficit equaled 16.6 percent of the total export earnings, it was still below the Government's 20 percent target for the year.
But in the context of the present high foreign exchange and inflation rates, if the trade deficit is not restricted, it will impact the economy, they said.
The number of export staples with earnings of more than $US1 billion was 16 in November, up by three against October, including cashew nut and petrol.
The staples have made a significant contribution to total export revenue.
Garment and textile remained their top position, bringing home more than US$10 billion, up 22.6 percent against last year.
Deputy general secretary of the Vietnam Textile and Apparel Association Nguyen Son said the textile and garment industry is on course to earn roughly US$11 billion this year, US$500 million higher than the Government's target.
Other staple goods generated good export sales too. Footwear and seafood earned US$4.5 billion each, and crude oil US$4.47 billion.
Director of the Industry and Trade Ministry's Export and Import Department Phan Van Chinh said besides industrial products, agricultural, forestry and seafood products will also achieve high growth in the last month of the year thanks to advantageous export prices and abundant domestic supply sources.
Seafood is expected to earn the country more than US$4.8 billion this year while the figure for rice exports will be roughly US$2.6 billion, he added.
According to the ministry, Vietnam is likely to meet its target of US$70 billion for 2010, up 22.6 percent over the previous year.