In the first quarter of this year, trade between the US and Viet Nam reached almost US$2.9 billion, but is still not rising as fast as it could, according to the Ministry of Industry and Trade.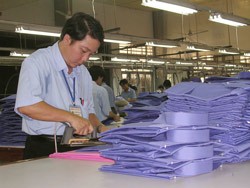 Textiles and garment products make up largest part of Viet Nam 's export to the US .
Nguyen Hong Duong, deputy head of the ministry's American Market Department said exports to the US still remained low at US$2.3 billion in the first quarter of this year, an increase of 8.1 percent compared to the same period last year.
Imports, however, have soared, equalling US$591 million, an increase of 101 percent over the same period last year, resulting in an imbalance of trade.
The ministry forecasts exports to the US will reach 11 billion USD, and imports will be under US$1.7 billion this year.
Viet Nam 's major exports of the last 10 years to the US remain the same -textiles and garment, footwear, crude oil, aqua produce, wooden furniture, and agricultural products.
The ministry said it would apply for a Generalised System of Preferences (GSP) status for Vietnamese exports to the US , which would help strengthen the competition of Vietnamese products in the US market.
Thailand , Indonesia , Philippines and Russia have all received GSP status, the ministry said.
The ministry said its major mission was to be awarded market economy status by the US this year, which would liberalise trade even further.
The ministry was also preparing to modernise all Vietnamese customs offices. As of July 1, 2012, all export items to the US must go through an X-ray system before shipping, as required by a US decree issued at the end of last year.
To succeed in the US market, Viet Nam businesses should establish a representative office in the US , American experts said.
Elizabeth Rose Daly, international trade director of the New York Mayor's Office, said there are two reasons to open a representative office in the US . Firstly, it helps strengthen the US client's trust in Viet Nam commodities; secondly, Vietnamese businesses can deliver better after-sales services which US clients are concerned about.