The price of seafood and agricultural products has fallen dramatically since last month. On June 20, Tra and Basa catfish sold for VND11,800 to 12,000 per kilo. Many fish farmers with 200 to 300 tons of catfish are now waiting for the selling price of their produce to increase. In An Giang province, thousands of tons of catfish have been suspended from going on sale until the situation becomes better for the farmers.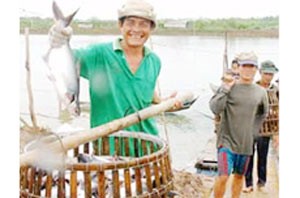 Tra and Basa catfishs are caught in the farm.
In Can Tho province, farmers have also been experiencing similar difficulties because factories are expressing their buying power, reducing the amount of raw fish they purchase, forcing farmers to sell their products at a cheaper price.

The price of fruit in Can Tho, Tien Giang and Vinh Long provinces has also seen a fall of 40% to 50% compared with the same time last year.

In many markets, from the center to the rural areas in the southwest provinces, Litchis from the southern provinces are on sale for only VND7,000 to 8,000 a kilo.

At the markets along the border provinces southwest of HCMC, imported fruit from Thailand is both tasty and is on sale at half the price of local produce.