Exports of agriculture, forestry, and aquaculture produce in July were worth US$1.4 billion, taking the tally for the first seven months to US$9.08, or 5.23 percent down year on year, the Ministry of Agriculture and Rural Development said.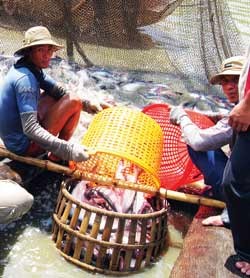 Tra catfish breeders in the Mekong Delta (Photo: SGGP)
Companies have faced a lot of difficulties in finding export markets, it said.
Forestry exports have fallen the most this year -- 18.08 percent -- followed by seafood products at 9.49 percent.
Meanwhile, imports of agricultural inputs skyrocketed, with fertilizer imports rising 35 percent to 2.22 million tons.
Imports of pesticide, timber, and cattle feed also saw a surge.