Exports for agriculture, forestry and aquaculture produce in August totaled US$1.35 billion, taking the number for the first eight months of the year to $10.2 billion, the Ministry of Agriculture and Rural Development said August 28.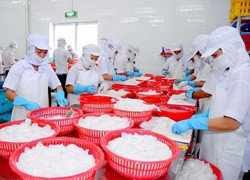 Workers at the Saigon Aquatic Products process cuttlefish for export (Photo: SGGP)
In spite of economic difficulties, export turnover is 91 to 94 percent of that in the same period last year.
The ministry had earlier worried that such exports for the whole year would be just $10.8 billion.
It is expected that total turnover for the year will rise to $14 billion, equal to that of the 2008.
The Vietnam Food Association (VFA) said that by August 27 its members had bought almost 370,000 tons of rice, with the floor price at VND3,800 a kilogram.
For good quality rice, they bought at higher prices, VND3,950 to 4,200 a kilogram.
VFA has acted to help thousands of farmers in the Mekong Delta who could not dry their rice after harvesting the summer-fall crop due to continuous rain. It has bought rice from farmers since August 10.
VFA permanent deputy chairman Nguyen Tho Tri said that his association's purchasing was to ensure farmers could reap at least 30 percent profits.
The VFA board will meet in the Mekong province of Bac Lieu on September 7 to close the first purchasing stage in August and discuss if it should continue to buy.
Rice exports so far have reached $2 billion, with an average price of $408.60 a ton. Total exports have risen by 41.93 percent in quantity, but fallen $193.22 a ton over the same period.
Businesses have signed contracts to export 5.6 million tons, leaving 1.1 million tons left needed to deliver.
The number of registered export contracts is up 67 percent year on year.