At a conference organised by the Ministry of Agriculture and Rural Development on May 5 in Hanoi, to discuss spread of cattle and poultry diseases, the Department of Livestock Husbandry stated that prices of several kinds of produce had fallen drastically due to the ongoing heat wave and various animal diseases.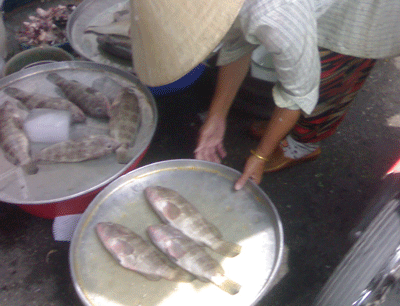 Prices of many farm produce have fallen because of the current heat wave (Photo: Thanh Tam)
Even though the hoof-mouth and bird flu has been contained nationwide, the blue-ear disease in pigs has appeared in the northern regions, killing thousands of pigs and causing huge losses to farmers.
Meanwhile, the current ongoing scorching heat wave is driving down prices of farm and aqua produce, with the hot weather killing animals in breeding farms rapidly.
Chickens are now selling at VND25,000 per kilo (approx. US$1.2) while pork is at VND46,000 per kilo ($2.21), and carp at VND65,000 per kilo ($3.12), instead of VND100,000 per kilo ($4.8) just a few months ago.
According to Hoang Kim Giao, head of the Department of Livestock Husbandry, the heat wave has greatly affected the food demand of the consumer, besides demand has also fallen for many kinds of farm produce compared to the same period last year.
Right now, the Department of Livestock Husbandry is assigning inspection teams to various areas in the country to examine the real situation as well as deliver timely guidance to farmers to fight the current heat wave and curb diseases in animals.