Farmers in the Mekong Delta remain apprehensive before harvesting the next sugarcane crop due to falling prices.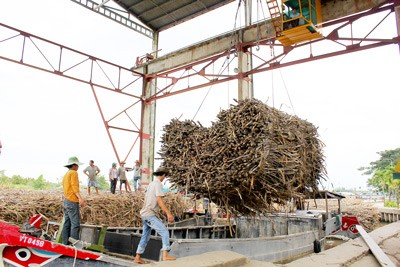 Sugar cane loaded to boats in Hau Giang (Photo: SGGP)
Le Thanh Son, a farmer in Tan Phuoc Hung Commune in Phung Hiep District in Hau Giang Province, said he has harvested 13 tons in one thousand square meters and traders have bought at VND800 per kilogram from his fields.
He has so far made no profit from this year's crop.

Heavy overheads including payment for sugarcane seed, fertilizer, pesticide, labor, have all reduced his profits.
Overheads will shoot up even further if farmers harvest the crop in flood season as rate for cutting and loading sugarcane from fields onto boats will increase more.

Farmers complained of low prices while sugar plants said this was high price compared to the world, where a kilogram of sugarcane fetches VND7,000 while it is VND10,000 in the country.

Nguyen Thanh Long, Chairman of Vietnam Sugar and Sugarcane Association, said plants collect sugarcane at high price but farmers' income is not high. If plants raise the rate, farmers will enjoy profits and supply will exceed demand and vice versa.

According to the Ministry of Agriculture and Rural Development (MARD), farmers harvested more than 19 million tons and the sugarcane sector is expected to produce some 1.53 million tons of sugar this year, which exceeds total demand.

The area under sugarcane in the country is 298,200 hectares, an increase of 15,000 hectares.

Price of sugar has been stable for two years yet the amount of sugar in stock is over 200,000 tons, with the threat of smuggled sugar placing farmers and plants in a difficult situation.

The domestic sugarcane sector is on the verge of being crippled by smuggled products as a large amount of sugar is illegally brought into the country across the southwestern borders regularly.

Nguyen Thanh Long said the next time, Vietnamese farmers and plants will encounter more difficult times because of tax on imported sugar within Asian countries.

Therefore, the Ministry of Industry and Trade and MARD should have talks and apply flexible methods. In addition, the government should have investment strategies to help improve seed and quality to enhance competition with other countries in the region.