Farmers in Chau Thanh District of Long An Province and Cho Gao District of Tien Giang Province have already spent VND810 billion to cultivate more than 2,700 additional hectares of dragon fruit, even though they are not sure of return in profits.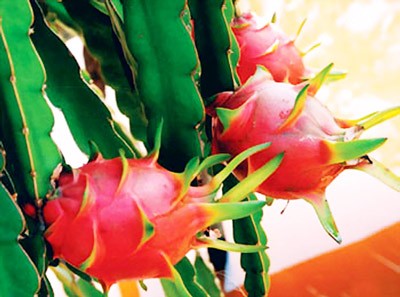 Farmers in Chau Thanh District of Long An Province and Cho Gao District of Tien Giang Province consider dragon fruits as the current most lucrative crop. (Photo: SGGP)
Local farmers in the above districts still consider dragon fruit as the most lucrative crop as in recent years it has earned them millions or even billions of dong.  Continued to be lured to hopes of high profits, most farmers have switched to growing dragon fruit though rice or vegetables still provide a fairly stable income. From 2011 to now, farmers in the two above districts have expanded dragon fruit area by more than 2,700 hectares, far beyond the target area of the two districts.
Truong Van Biet, chairman of the People's Committee of Chau Thanh District, said that the area of dragon fruit in the district was about 1,000 hectares in 2010 and was planned to increase to 1,500 hectares by 2015. However, dragon fruit area now exceeds 2,200 hectares.
Meanwhile, in 2010 in Cho Gao District, dragon fruit area was nearly 2,000 hectares but is now more than 3,500 hectares while the maximum area for expansion was targeted at 4,500-5,000 hectares by 2015.
Taking only the new cultivation area into account, from 2011 to now, farmers in the two districts have spent more than VND810 billion in investments; but adding this area to existing cultivated area--then investments rise to VND1.6 trillion. This is too huge an investment for local farmers to bet on if they remain unsure of return profits.
This also raises concerns as to why so many farmers switched to growing dragon fruit, when they barely know about cultivation techniques. However, they thought recklessly, believing that if other farmers can grow dragon fruit and reap profits, they could too.
Mr. D.V.N, an official in Long An Province, also decided to convert more than one hectare of rice growing area to dragon fruit cultivation although he knows nothing about dragon fruit cultivation techniques nor is he sure of reaping more profits.
According to Mr. Truong Van Biet, farmers abandoned rice and vegetable cultivation to grow dragon fruits because traders have in the past two years been offering good prices for dragon fruits, tempting farmers to switch crops. Moreover, power supply for dragon fruit cultivation has been guaranteed of late, creating favorable conditions for dragon fruit growers.
In the past two years, the price of dragon fruits went up pretty high, bringing higher profits for growers. As for white-flesh dragon fruit, average price was from VND15,000 to VND20,000 per kilogram, or even VND30,000 per kilo sometimes. The price of red-flesh dragon fruit was VND30,000-40,000 per kilo, or even upto VND60,000 per kilo. As a result, a hectare of white-flesh dragon fruit yields about VND300-400 million, while that of red-flesh one gives about VND700-800 million, or sometimes VND1 billion.
According to farmers' calculations, if the price maintains at that level, they can reclaim their initial investments and reap profits after two years. Because the plant bears fruits after 15-17 months and in its third year, a hectare produces an average of 10-20 tons of dragon fruit.
However, consumption and keeping prices stable remains uncertain. Le Minh Duc, director of the Department of Agriculture and Rural Development of Long An Province, said that due to high profits, farmers have taken to growing dragon fruits even in places that are not part of planned area and facing difficulties in power and water supply. However, the hardest part is ensuring consumption and stable prices for farmers to reap profits.
Currently, dragon fruits are mainly exported to China. Therefore, if dragon fruit consumption in this market becomes stagnant, growers will eventually suffer. Thus, in order that dragon fruit maintains foothold in local and foreign markets, authorities have advised farmers to grow dragon fruit as per planned area.
In addition, the Government has also helped farmers with better cultivation techniques so they can produce safe fruits, reduce cost price, increase productivity, and improve quality to enter new markets, such as Japan, South Korea, and the US.