Farmers have not profited in any way from the recent hike in the price of chicken and duck eggs by some foreign invested businesses in Vietnam.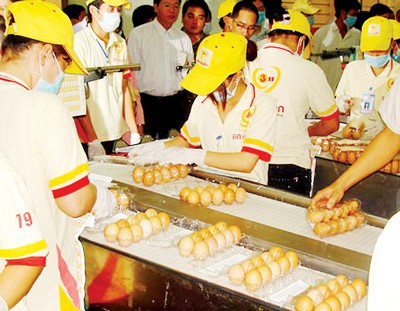 Workers pack chicken eggs at the Ba Huan Company in HCMC (Photo: SGGP)
According to Dr. Nguyen Dang Vang, chairman of the Vietnam Livestock Association, the CP Company is pricing an egg for VND2,700 but pays farmers only VND1,500.
Even at a sale price of VND2,100-2,300 an egg, the company is still making a profit of VND600-800 per egg.
Both CP and Evimest Companies have admitted to an unreasonable price hike by them. So far, they have slashed the price in the southern region but not in the northern region.
In Hanoi, duck egg price remains high at VND35,000-38,000 per pack of ten and chicken egg price at VND28,000 for pack of ten--as of January 19.
In response to a query if CP Company occupies 16 or 60 percent of market share, Mr. Vang replied that Vietnam's egg market does not depend on any one company.
In 2012 the CP Company provided 1.2 billion eggs, accounting for only 16 percent of the total 7.3 billion eggs produced in the country.
At supermarkets, the market share of CP, Evimest and Japfa Companies is about 60 percent. However, people buy eggs mainly in markets not supermarkets.
The main concern now is the huge reduction in the number of breeders, who faced acute capital shortage and wide spread diseases.
Vietnam Livestock Association said that the number of breeders who shut down account for 35-40 percent, leading to a 30 percent fall in egg supply.
However, Nguyen Xuan Duong, deputy chairman of the Department of Livestock under the Ministry of Agriculture and Rural Development, says that it will not be necessary to import eggs because domestic production of 20 million eggs a day is able to meet the demand.
In Hanoi, authorized organs have done nothing to tackle the sudden increase in egg price by the above companies.
Le Thi Loan, deputy director of the Hanoi Department of Finance, said that CP Company does not participate in the price subsidized program. As a result, the department has no control of their pricing and cannot take action without support from the Department of Industry and Trade.
Lack of coordination among authorized organs has allowed the egg price to remain high in the northern region.
Related articles:
Emivest Company admits unreasonable hike in egg price
City has abundant supply of eggs: Dep Chairwoman
Unreasonable price hike of chicken eggs in HCMC